Hotel highlights
Free breakfast
Free valet and self parking
Onsite dining
Marina
Located in Maroma, El Dorado Maroma By Karisma All Inclusive is 8.6 mi (13.8 km) from El Camaleon Golf Club. This 98-room, 4.5-star resort has 3 outdoor pools along with a private beach and a marina. Also near this Playa del Carmen resort are Maroma Beach and Tres Rios Ecopark.
Dining
Free breakfast is included with your stay. Enjoy dining at SABORES, one of 4 onsite restaurants. Savor a meal from the comfort of your room with 24-hour room service, or get a quick energy boost at the coffee shop/café.
Rooms
The 98 air-conditioned accommodations feature balconies and afford space to spread out with sitting areas. Flat-screen TVs come with satellite channels and DVD players, and guests can stay connected with WiFi. Bathrooms offer hair dryers, free toiletries, bathrobes, and slippers. Other standard amenities include free minibar items, coffee makers, and free bottled water.
Property features
El Dorado Maroma By Karisma All Inclusive features a private beach, a marina, and a full-service spa. If you plan to drive, free valet parking is available. The 24-hour front desk has multilingual staff ready to assist with dry cleaning/laundry and concierge services. Other amenities at this adults-only resort include 3 outdoor pools, a health club, and a spa tub.
Guest reviews for El Dorado Maroma By Karisma All Inclusive
25th anniversary trip
Everything about this hotel is wonderful. We spent 7 days in pampered bliss. I can't say enough good things about the service. The only thing was the food. While perfectly prepared, it was a little too gourmet for us. A lot of menu items that I didn't know what they were. No fault of the hotel just not our tastes. We would definitely return!
does not show attention to deals
Facility nice and location was great. Do not show attention to detail. Did not remove room service dishes outside room for 4 days after calling 3 times. Food servers were not attentive at Mio. Loved Carribean grill - food and service. Rooms very large.
5 day beach getaway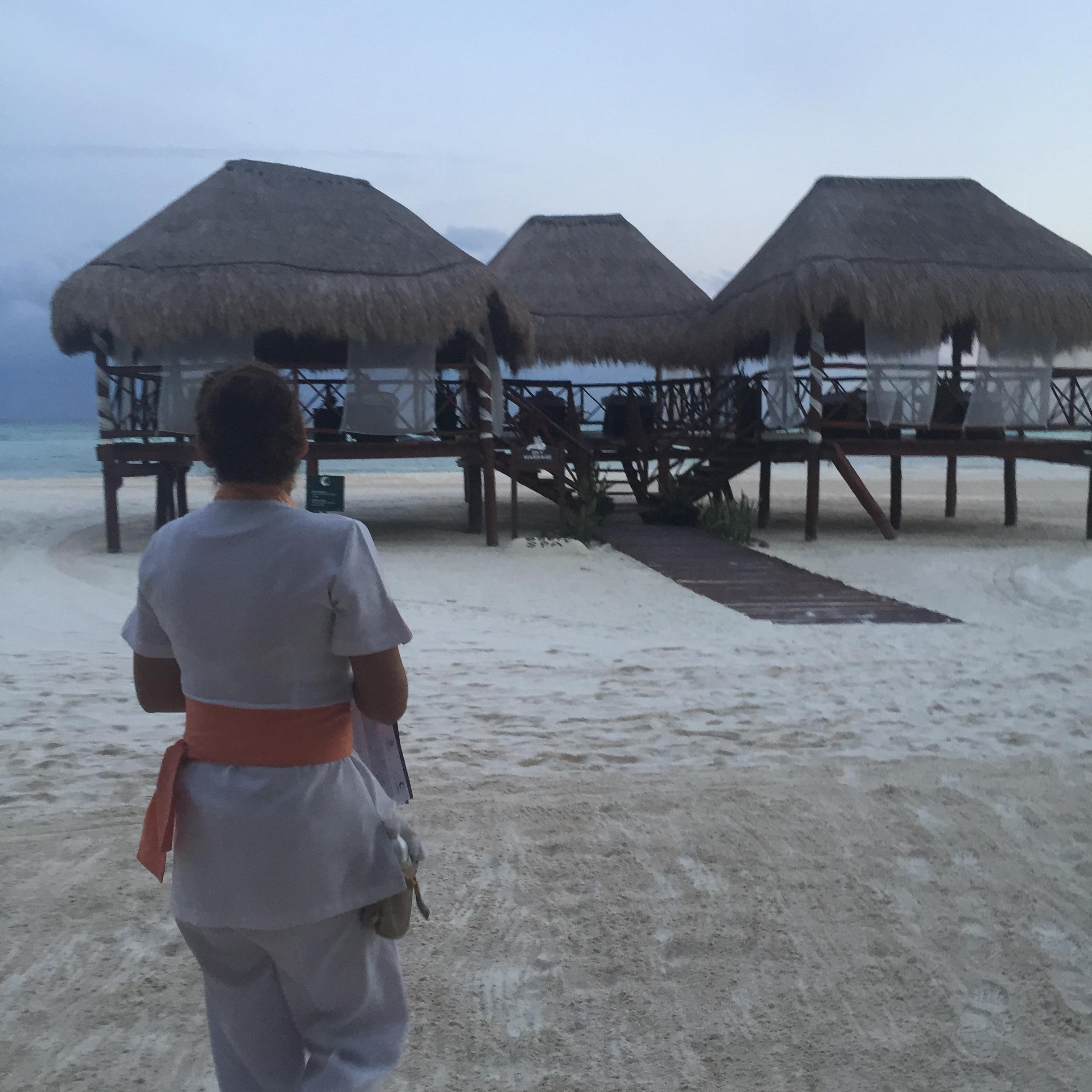 Great vacation! Food is above the norm for an all inclusive. Definitely try Lima limon (Peruvian restaurant on site). Staff members are extremely friendly. Grounds are immaculate. Quiet after 9-10 pm... 35 minutes from airport, an hour to Tulum ruins and numerous cenotes (both a must see). Easiest to pay with pesos... Conversion to USD seems to vary by establishment.
absolutely wonderful place. loved it.
Excellent experience. Staff the best ever and u travel quite a lot do no complaints.
paradise - a better value than secrets maroma
Everything about this place is very intimate and the staff treat you like royalty. Secrets doesn't have this level of intimacy and service, but they' are indeed bigger. Outside beds are for everyone and unlike Secrets Maroma you don't have to pay extra. Chilling out on these with your loved one basically all day is something I really miss doing. The beach is better than Secret's Maroma as well. Super calm water and crystal clear because of the beach whales and every couple always has their own space. The only aspect Secrets Maroma is better is the food and perhaps overall decadence. El Dorado need to work on their dinner selections, options, and overall quality. I have discussed this with senior management and they did inform me that this is a priority for them to improve upon. It was really nice to hear that they're being progressive. That being said, their breakfasts and lunches are awesome.
secluded and subdued adult getaway
My girlfriend and I celebrated her birthday here in early May at the recommendation of a friend who has frequented the Mayan Riviera. I can't say enough how glad we are that we took him up on the referral. This resort is secluded, about 30 minutes south of Cancun and outside the congestion of Playa del Carmen, away from the cluster of other resorts in the area. The customer service was without a doubt exceptional. Everyone we encountered on staff was friendly, helpful and mindful of us having the best experience possible. In many cases, that also meant being left alone to enjoy our beachfront paradise, but within a short distance of helping with whatever we needed. This is a vacation for couples looking for a quiet and romantic getaway. In our late 20ies/mid30ies respectively, we were among the youngest guests at the resort. As a result, there's not much activity on the property after 10pm if that's what you're looking for. Also, be mindful that "all-inclusive" has many exceptions. The staff will work hard to up-sell you on many of the exclusive features not included with the day rate like spa treatments, bottle service, and excursions. We opted out and still enjoyed incredible meals, wonderful "free" drinks at several of the open bars, 24 hour room service, including turn-down service, and many of the other room and property features as advertised. A tucked away gem. I would love to return.
don't go there !
The septic odor awful. construction noise. dirty pool water. harassed to purchase tours from the hotel staff. Beach destroyed by erosion barriers close to swim area. Slow service typically occurs.
pretty and quiet but not perfect
The hotel staff is very friendly and accommodating. We had some issues with our room that make this review less than stellar. We paid for a nice room, with the access to the pool right outside our door, which was great! The looks of the room, first impression, and spaciousness were all amazing too. But our bathroom door lock broke the first day, which required a maintenance guy to take apart the lock to get out of the bathroom. Our room phone wasn't working properly, randomly ringing throughout the night with an intercom tone, and our mini fridge wasn't getting restocked, even after we called and requested. Additionally, there was water constantly dripping right outside our room (when the weather was nice) that we had to walk under each time we entered or left our room. These are all minor inconveniences, but for the price we paid, I expected more. The food was great, room service was awesome, and the small size of the resort gave it a comfortable feel.
constructive feedback!
Positives: Fantastic location. Beautiful beach and grounds. Restaurants / Food are excellent with a choice of Japanese, Mexican (authentic not TexMex) and Italian. Quality and presentation of meals was faultless. Massage Man was amazing - genuinely friendly. Negatives: Overbooked (we were transferred to a sister hotel for our first night - apparently this isn't uncommon!). Rooms are clean and nice-enough but perhaps not fitting for a "luxury" resort? (we stayed in the standard room but at $500+ per night you expect better...)
very relaxing
We really enjoyed our stay at the El Dorado Maroma. The hotel and the rooms were really beautiful and the staff was lovely, friendly and helpful. The beach was just sooo beautiful, and some of the extras - such as waiter service on the beach were very welcome! There were some teething problems though, and areas in which I could suggest improvements. Firstly the housekeeping was a little temperamental - our room was very clean and lovely, but we got the turn down service on the first night, and no others. Some days our mini bar fridge would be refilled, but not others. The timing of when the room cleaning differed dramatically, so on one day when we wanted to spend the afternoon on our balcony after 2pm, the room wasn't clean and we didn't end up getting it done that day. Also, we felt that whilst a lot of the food was lovely, the menus, including for room service, were a little limited, and the Italian and Japanese restaurants on-site were not that great. One major issue we had was that an error had been made with our booking, and that of a number of other customers on the day we arrived. That meant that we had to spend our 1st night of only 5 in total in a sister hotel, a 15min drive away. We were compensated for this with a free speciality dinner, and a couples massage, but it was still frustrating, as one of our full days was broken up and reduced by the fact that we had to check out of the sister hotel, and back into our original one. Whilst they couldn't have been nicer about the whole thing, it was still a little disappointing when we had spent what we considered to be quite a lot of money, and only had 5 days in total. We would however go back again, but I would probably try to get a slightly better rate, as I think we paid quite a lot! :)