Many airlines offer flexible change policies
Sign up to receive text alerts about your trip

Top places to visit in Puebla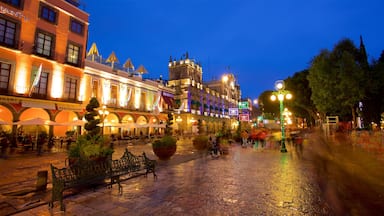 Puebla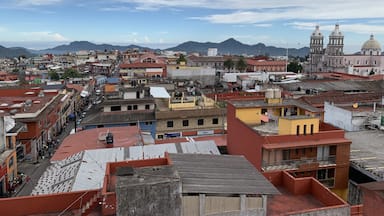 Teziutlan
Chignahuapan
Cheap flights to Puebla from $137 One Way, $80 Round Trip
$80 return flights and $137 one-way flights to Puebla were the cheapest prices found within the past 7 days, for the period specified. Prices and availability are subject to change. Additional terms apply.
Deals For This Weekend's Flights
*Prices include taxes and fees
Find The Perfect Hotel For After Your Flight
Need a Car For After Your Flight?
Puebla
Orbitz uses cutting edge mobile technology to help get you the best deals on Puebla flights. We offer guaranteed low prices on air tickets that can be combined with hotels and car rentals to save you even more money.
Find Cheap Puebla Flights And Hotel Rooms Using Our Mobile App
Orbitz not only guarantees low prices for flights to Puebla, we also offer Mobile Steals on our Orbitz on the Go mobile app where you can find great mobile-only deals on hotel rooms in the area.
Use the Orbitz Flight Matrix To Save Big On Car Rental
Discount flights to Puebla can be combined with car rental to get you additional savings. Just use our Flight Matrix to see how your budget air ticket can be combined with a car rental to make your trip not only inexpensive but also more convenient.
Use Multiple Airlines To Ensure You Get The Best Deal
Orbitz allows you to use multiple airlines for flights to Puebla. By using a combination of airlines for discount flights you are guaranteed to get the lowest fares each way and get the schedule that is most convenient for you.
Store Your Frequent Flyer Information on Orbitz For Easy Access
Booking with Orbitz will still allow you to apply miles for flights to Puebla to your frequent flyer program. Not only that, but your frequent flyer information will be safely stored on our website, so it will be easy to access the next time you book a discount air ticket with Orbitz.
Frequently asked questions
Am I currently able to fly to Puebla?

Before you book your airfare, check out our

Covid-19 Travel Advisor

. This page has all you need to know about current travel advice, quarantine rules and other vital info for your flight to Puebla.
If I am not able to travel because of COVID-19, can I change or cancel?

You'll find answers to frequently asked questions on our convenient

Customer Service Portal

. While most airlines make allowances for changes or cancellations due to COVID-19, check over the terms and conditions of your selected carrier before you book.
Which airlines fly to Puebla?

With 12 airlines venturing to Hermanos Serdan Intl. Airport (PBC), you'll be exploring every inch of Puebla before long. Picking a flight that suits your travel itinerary is simple. Compare the available fares from these major domestic carriers and enjoy a smooth landing at Hermanos Serdan Intl. Airport (PBC):




Volaris - 52 flights to Puebla per month
VivaAerobus - 39 flights to Puebla per month
Aeromar - 1 flights to Puebla per month



What is the best airport to fly to in Puebla?

Hermanos Serdan Intl. Airport (PBC) is the major entry point for this popular region. Once you've left the terminal, the possibilities are endless when it comes to exploring Puebla.
How much is a flight to Puebla?

Prices for return flights fell as low as $80 this week to Puebla, and went as high as $965. Some lucky passengers flying out of Chicago (ORD) managed to score one-way flights starting at just $137.
How to book the cheapest flight to Puebla?

Snapping up cheap flights to Puebla is as simple as booking with Orbitz. But if you'd like to make sure you're walking away with the best flight deals around, here are some suggestions to keep your wallet happy:




Consider other airports for a cheaper fare. Enter your preferred departure and arrival points in the form fields, then select the 'Nearby airports' function below. It will list the available options.
If you're flexible with your travel schedule, click on the 'Show flexible dates' link. It'll bring up flight deals for the days either side of your chosen departure. Ticket prices often vary depending on what day it is.
Select 'Show options' to narrow down your search results. You can pick your preferred seating class and airline here. Under 'Sort & Filter' to the left, you can even specify whether you'd like to fly in the morning, afternoon or evening.
The early bird catches the most impressive deals, so book your tickets the moment you know your travel dates. The cheapest airfares get snapped up fast and prices rise as the departure date nears.
Combine your flights, hotels and car rentals into a package deal and score great discounts. Save your money for things you're really excited about, like discovering every corner of Puebla.
Don't fly during peak seasons if possible. By avoiding summer and school vacations, you can make amazing savings on your airfare.



How long is a flight to Puebla?

Where you depart from will largely determine how much time it will take to get to Puebla. A few of the most common domestic routes and average flight durations are below:




Cancun, Quintana Roo (CUN-Cancun Intl.) to Hermanos Serdan Intl. Airport (PBC) - 2 hours and 6 minutes
Monterrey, Nuevo Leon (MTY-General Mariano Escobedo Intl.) to Hermanos Serdan Intl. Airport (PBC) - 1 hour and 30 minutes
Tijuana, Baja California Norte (TIJ-General Abelardo L. Rodriguez Intl.) to Hermanos Serdan Intl. Airport (PBC) - 3 hours and 34 minutes



What is the best time to book a flight to Puebla?

Book in January, February or August for competitively priced tickets to Puebla. Once you've tracked down a bargain, buy it — cheap flights tend to pop up and then vanish in the blink of an eye.
What day of the week is the cheapest to book a flight to Puebla?

Make a booking on a Tuesday, Wednesday or Saturday. Generally, these are the cheapest days to purchase fares to Puebla. The vacation of your dreams starts with a terrific flight deal!
What is the cheapest day of the week to fly to Puebla?

Think about departing early in the week to nab cheap flights to Puebla. Orbitz data from 2020 indicates Monday is normally the most inexpensive day to head off, followed by Tuesday. Saturday was found to have the highest airfares. Presumably, this is because most travelers prefer to start their getaway when the weekend rolls around.
What is the cheapest month to fly to Puebla?

According to Orbitz data, it's better to fly out in August. This is generally the best month to pick up cheap flights to Puebla. Bear in mind that the most expensive time to take off is during the month of June.
Which airlines allow free cancellation?

Orbitz makes it easy to find airlines offering fare flexibility. Simply choose "Filter by flexible change policies" when searching for your flights and ta-da! We'll show you options that include free cancellation, no change fees and of course, an amazing low price.
What do I need for the flight to Puebla?

There is so much to sort out for any big trip, so it's good to get some help along the way. Here are a few suggestions to ensure you're organized for your flight:




Travel documentation such as e-tickets and some identification will be required. To avoid any last-minute delays at check-in, make sure your booking is made with the exact name, gender and birth date as indicated on your government-issued ID.
A well-packed carry-on bag is the key to flying in comfort. Given your flight to Puebla is no short hop, take a few snacks and activities to keep you happy. Something to read is sure to help pass the time.
Regardless what the season is at your destination, plane cabins (and airports) are often quite cool. Carry an extra layer on your journey to stay nice and toasty.



How many direct flights are there to Puebla?

With 18 flights traveling straight to Puebla every month, finding one to complement your itinerary will be a cinch. Volaris, VivaAerobus and United Airlines are among the major carriers that offer nonstop services.
How do I get cheap first-class/business deals to Puebla?

There are ways of booking business or first-class tickets to Puebla that won't burn a hole through your budget. Pick up a seat at the front of the plane for less with these helpful tips:




Flexibility isn't just for your yoga class. Have some room to move around your travel dates so you can snap up cheaper airfares when a huge sale drops.
A lot of low-cost airlines offer superb business-class seating that doesn't cost an arm and a leg.
Make a bid for an upgrade. Some airlines hold online auctions that let you offer a price for a seat at the front of the plane. You may also be able to upgrade with points earned through a flight loyalty scheme.



Travel tips for Puebla




The possibilities for fun in Puebla are endless — and Xcaret Eco Theme Park is just one place you'll find it. Arrange a car rental, find out how to reach this sought-after attraction and then hit the road!
If you enjoy the fun and excitement of major cities, start your getaway in San Andrés Cholula. This bustling destination is the first stop for many tourists to the region.



City Destinations in Puebla