Many airlines offer flexible change policies
Sign up to receive text alerts about your trip

Top places to visit in Nicaragua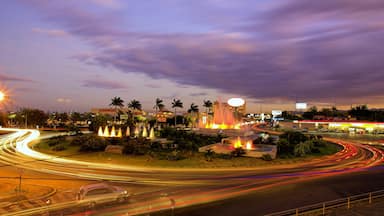 Managua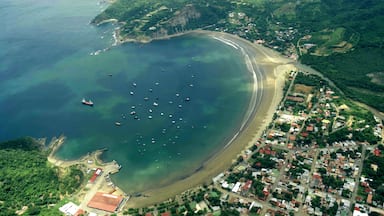 San Juan del Sur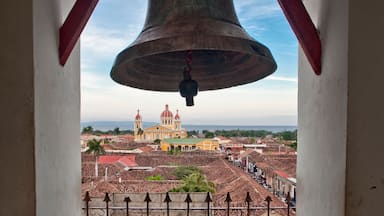 Granada
Cheap flights to Nicaragua from $49 One Way, $150 Round Trip
$150 return flights and $49 one-way flights to Nicaragua were the cheapest prices found within the past 7 days, for the period specified. Prices and availability are subject to change. Additional terms apply.
Deals For This Weekend's Flights
*Prices include taxes and fees
Find The Perfect Hotel For After Your Flight
Need a Car For After Your Flight?
Nicaragua
Get the absolute lowest prices on flights to Nicaragua by shopping with Orbitz. Orbitz is the most efficient travel planner around, allowing you to search, compare and book discount domestic and international flights fast. With cutting-edge mobile tools and access to frequent flier rewards programs, we have everything you need for both your routine and holiday excursions.
Book Your Flight To Nicaragua Using Your Mobile Device
New mobile app tools enable those with hand-held devices to scout out the best bargains and to secure tickets from any location. If you have an iPhone, iPad or Android device, you may take advantage of special discounts, only available to mobile device customers, when you book hotel rooms or car rentals on the same day as booking Nicaragua flights.
Avoid Check-In Hassles When Traveling On Flights to Nicaragua
Orbitz also provides an array of resources that can help you eliminate most check-in hassles. Detailed baggage information is continually available for Nicaragua flights. Mobile apps can also be used to share travel itineraries with family members or business associates.
Keeping Everyone Up To Date
When you download the free Orbitz mobile phone app, you can get regular and free flight updates. These will keep you informed of important scheduling changes. Updates can even be sent to several contacts, helping to keep everyone current on anticipated arrival times and all other relevant flight details.
Orbitz makes traveling on a budget very easy to do. We provide everything you need to plan your ideal trip from start to finish. Getting there and back again is a snap when you book your Nicaragua flight using Orbitz.
Frequently asked questions
Am I currently able to fly to Nicaragua?

For up-to-date flight information to Nicaragua, check out the

Covid-19 Travel Advisor

. Find out if there are any travel advice reports and whether you'll be required to quarantine after you touch down.
If I am not able to travel because of COVID-19, can I change or cancel?

For info on altering flights due to COVID-19, visit our

Customer Service Portal

. Also, it's always wise to browse through your carrier's terms and conditions before booking your tickets.
Which airlines fly to Nicaragua?

With 14 airlines waiting to whisk you away to Nicaragua, finding the perfect flight will be easy. Book a fare with one of these trusted carriers that operate at Augusto C. Sandino Intl. Airport (MGA):




Avianca El Salvador - 101 flights to Nicaragua per month
Copa Airlines - 23 flights to Nicaragua per month
Aeromexico - 17 flights to Nicaragua per month



How much is a flight to Nicaragua?

Last week, prices ranged between $150 and $2,753 for a round-trip fare to Nicaragua. One-way tickets departing from Fort Lauderdale (FLL) dropped as low as just $49 over the same time period.
How to book the cheapest flight to Nicaragua?

Landing cheap flights to Nicaragua is as simple as booking with Orbitz. But if you want to make sure you're nabbing the best flight deals around, here are a few tips your wallet will love:




Depending on your departure city, click on the 'Nearby airports' function (located under the departure and arrival options). Oftentimes, other departure points offer more value for money.
If your plans aren't etched in stone, click on the 'Show flexible dates' link to see the flight deals for multiple departure dates. You may find an amazing fare.
You can also hit the 'Show options' function to filter results for your preferred airline, seating class, and nonstop and refundable flights. Under 'Sort & Filter' to the left, you can even choose the time of day you'd prefer to fly.
If you've worked out your travel dates, don't drag your feet booking a flight. Fares usually rise as the departure date nears.
Consider bundling your flights, hotels and car rental into a package deal with Orbitz to save money.
Whenever possible, don't fly in peak seasons. Airfares usually surge during school breaks, summer and other vacation periods like Easter and Thanksgiving.



What is the best time to book a flight to Nicaragua?

Generally speaking, January is the ideal time to purchase your plane ticket. This is closely followed by February and August. Keep this in mind while searching for a cheap flight to Nicaragua.
What day of the week is the cheapest to book a flight to Nicaragua?

When it comes to cheap airfares to Nicaragua, the best days to make a booking are generally Tuesdays, Wednesdays and Saturdays. A fabulous flight deal is just clicks away with Orbitz.
What is the cheapest day of the week to fly to Nicaragua?

You can score cheap flights to Nicaragua by taking off on a Monday, according to Orbitz data from 2020. Tuesday is the next cheapest day, while Saturday has the most expensive airfares. Whether you prefer to stretch your travel budget or fly out on any day that's convenient, you'll always find a fantastic deal with Orbitz.
What is the cheapest month to fly to Nicaragua?

According to Orbitz data, you should fly out in August. This is generally the best month to pick up cheap flights to Nicaragua. Keep in mind that the most expensive time to depart is in June.
Which airlines allow free cancellation?

We know that plans can change and flexibility is more important than ever. That's why you can search for flights that include free cancellation and no change fees on Orbitz. Simply click on "Filter by flexible change policies" and we'll show you fares with more flexibility than a crayon left in the sun!
What do I need for the flight to Nicaragua?

From onboard entertainment to travel basics like hand sanitizer, there are a few things a seasoned flyer always carries with them. To make sure you're prepared for your flight, have a look at this helpful list:




For starters, you'll need to take all your travel documents and some identification. How much will depend on your place of departure. When you book, always use the correct name, gender and birth date as indicated on your current ID.
A well-packed carry-on bag is a must for any lengthy flight. With at least a few hours to kill, you'll need something to keep you busy while in transit. We suggest a good book or magazine, and something to snack on.
Aeroplane cabins are often quite cold. Even if you're flying during the peak of the Nicaragua summer, make sure you take an extra warm layer just in case.



How do I get cheap first-class/business deals to Nicaragua?

If you think a business or first-class ticket is way out of your reach, you may want to think again. Here are some practical tips to help you find a premium flight to Nicaragua for less:




Be flexible with your travel dates and wait for early bird or last-minute sales on business or first-class airfares.
A lot of budget carriers nowadays offer excellent business or premium-class seating that doesn't cost a bundle.
Bid for an upgrade in online auctions (if available) or upgrade your ticket with your frequent flyer points.



Travel tips for Nicaragua




Xcaret Eco Theme Park is just one must-see while you're traveling through Nicaragua. Pick up the keys to a car rental and enjoy the freedom of exploring this well-known attraction — and plenty of others — at your own speed.
If you enjoy the action and excitement of major cities, begin your getaway in Managua. This happening destination is the first port of call for many tourists to the area.



City Destinations in Nicaragua