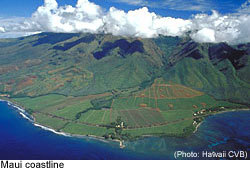 On a map, Hawaii looks like a few tiny dots floating in the vast blue Pacific.
But zoom on in, and you'll find that it is, in fact, a mighty big, diverse place with an array of distinct islands, each of which is bound to offer the visitor a remarkably different kind of Hawaiian vacation.
"Each of the islands has a unique physical trait, besides the personality," says Maura Jordan, a Hawaii tourism spokeswoman.
So once you've made that monumental decision to take a Hawaii vacation, you've still got some serious thinking to do. To help you narrow your options, here's an overview of the main Hawaiian islands and what makes each one special.
MOLOKAI
Best known for: Travelers who want to see undeveloped Hawaii may favor rustic Molokai. They'll find no high-rises or fast-food chains on the fifth-largest Hawaiian island, a mere 700 hotel rooms, and only a single traffic light. They will find the highest sea cliffs in the world, along the island's east coast, as well as Hawaii's highest waterfall — the 1,750-foot Kahiwa Falls.
Top attractions: Maunaloa, an old plantation town; Kalaupapa National Historical Park, site of the former leper colony. Don't miss the popular mule ride.
KAUAI
Best known for: The fourth-largest but geographically oldest of the islands, Kauai is famed for its lush, varied landscape and spectacular scenery, including the 3,567-foot-deep Waimea Canyon and 3,000-foot-high cliffs along the Napali Coast. The island of Kaua'i boasts Hawaii's most miles of beach per coastline, the most hiking trails, thelargest coffee plantation, and the only navigable rivers.
Given its diverse terrain and the array of rivers and trails, Kaua'i is considered ideal for adventure travelers into hiking, biking and kayaking.
Top attractions: National Tropical Botanical Gardens, Kilauea Point National Wildlife Refuge.
LANAI
Best known for: Luxurious, secluded Lanai is home to two five-star resorts and is largely privately owned. As one of Hawaii's own tourism publications puts it: "The Lanai of today is a manicured environment designed for the exclusive use of a privileged few.
Top attractions: Kaunolu Village, an archaeological site and national historic landmark; the Luahiwa Petroglyphs; the rugged, rocky Garden of the Gods; the swimming turtles at Polihua Beach.
HAWAII (Big Island)
Best known for: Along with being twice the combined size of the other islands, the Big Island has the world's most active volcano and the state's longest sheer-drop waterfall. It's also the most ecologically diverse — including rain forests, desert plains and a snowcapped mountaintop. It's great for diving and fishing, and with 18 golf courses, it's also touted as the "Golf Capital of Hawaii." Because it's so spread out, a rental car will come in handy.
Top attractions: Hawaii Volcanoes National Park, Akaka Falls.
MAUI
Best known for: Hawaii's second-largest island is a magnet for golfers, snorkelers, hikers, windsurfers and whale-watchers, who can spot the humpbacks congregating offshore between November and April. The island claims the most miles of swimmable beaches in Hawaii and is home many luxurious hotels. Travelers can visit Haleakala, the world's largest dormant volcano, and delve into Hawaii's past in historic Lahaina Town.
Top attractions: Haleakala Crater; Iao Valey State Park; "Ulalena," a highly praised theatrical production that relates Hawaii's history and culture with dance, music and acrobatics.
OAHU
Best known for: There's a little something for everyone on Oahu, which offers a mix of history, culture, nightlife and outdoor adventure. The island and the state capital — Honolulu — are home to many historic landmarks, renowned museums, glitzy hotels, restaurants and shops, more than 130 beaches and an array of golfing, hiking and sightseeing options.
Top attractions: Waimea Bay and Waimea Falls, Iolani Palace, Diamond Head Crater, Pearl Harbor, Polynesian Cultural Center.
Related Orbitz resources:
Tagged: Hawaii Vacation, Travel Tips