Guest reviews for Sleep Inn Memphis
great place
Great place to stay warm and friendly staff very helpful. Large rooms with great flat screen TV, clean with excellent facilities gym and pool. Plenty of restaurants in the area.
great hotel, huge room very clean pool an gym frie
Great hotel reasonable price very clean huge room gym and pool great staff
Stayed at Sleep inn on the way to Graceland. Our days got mixed up and the hotel immediately fixed them in their system for no extra charge. Room was clean and quiet also, very refreshing after a long drive. The only problem was the bathroom door lock was broken and hanging off but that wasn't a big deal just staying for one night. We didn't have time for any of the amenities that they offer because it was a quick trip, but It was a good hotel for the amount of money we spent.
convenient location for race needs, but.....
The location of the hotel was good for access to race location, but overall the room wreaked of smoke, the walls were peeling, light fixtures in ceiling falling out. When we asked for air freshener the first night, we were given a spray bottle of water! The day staff was much more accommodating and pleasant to work with.
nice hotel
This hotel is wonderful. Great room fantastic breakfast. Love staying here
wonderful
The most pleasant stay ever. I'll stay again on my next visit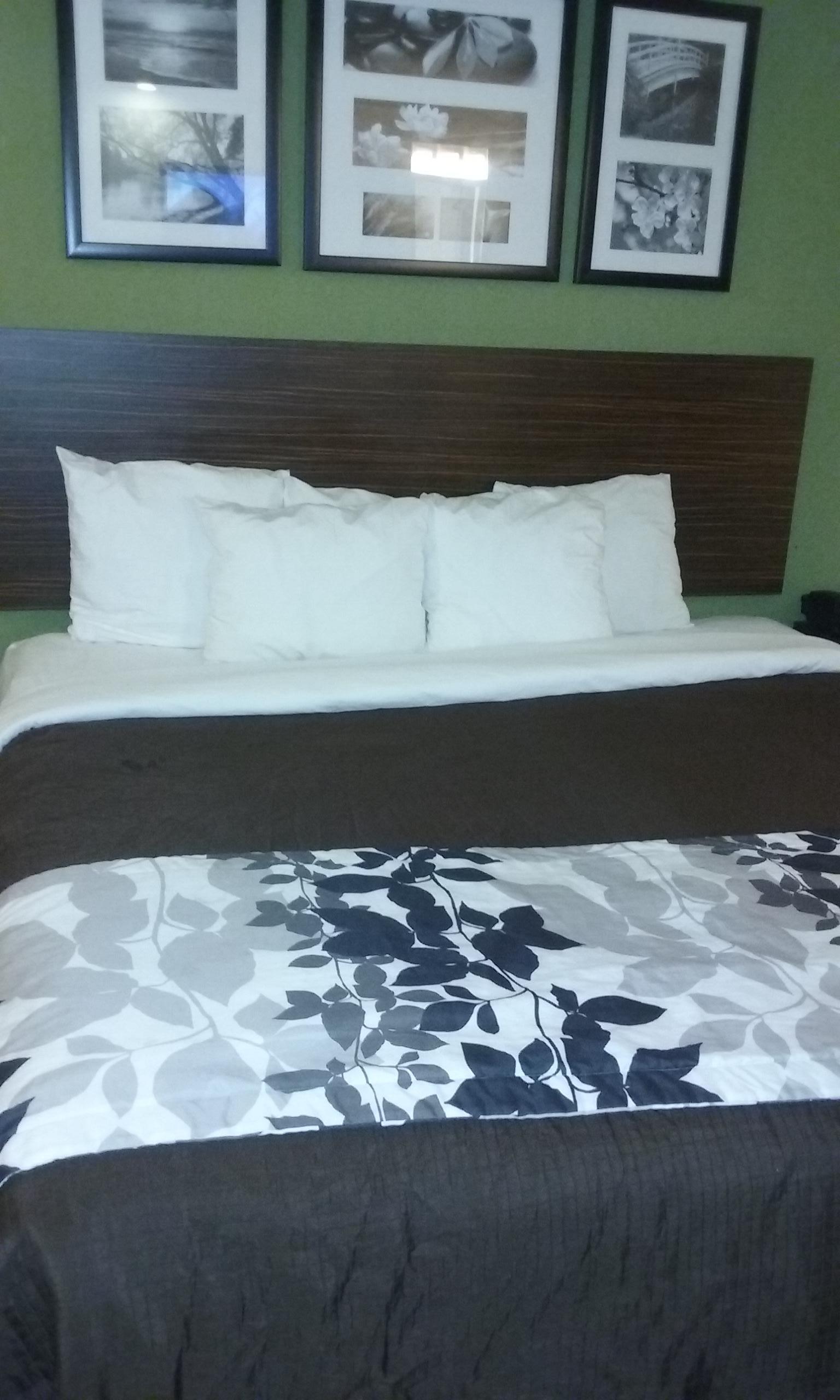 Very nice place friendly staff good breakfast nice room will visit again very soon
nice budget hotel
My family and I stayed here this past weekend 8/5/16-8/7/16 the rooms were really nice and comfortable the staff was nice and also the breakfast had enough to get you full. It's security during the night from what I saw and he is really friendly and walk around keeping an eye on things. I did not try the wifi so I can't review that but everything was nice and the price was good
needs renovation
Sleep Inn needs to reinvest some capital into this location, The Shower and tub was in bad shape, the sink was all cracked up, The A/C unit when running was squeaking very loudly, would of asked for another room but the temperature wasn't too bad so I turned it off. Nice Staff. The rooms need to be redone. BATHROOM especially. Not worth the money, payed $86.75 Should of payed 39.99 10 miles from the pyramid.
the bad, the bad, and the worst
[...] The lady at the motel was very nice once we got there, but she gave us a key card for the room and it did not work. We were on the third floor. I had to go down to the desk and she did something to the card. I went back up to the room and still the card did not work. Went back down to the desk and the lady gave us another card to another room and yes, the card did not work. I went back down to the desk, the lady did something to the card and I went back to the third floor and guess what, the card still did not work. I then went "BACK DOWN TO THE DESK" and the lady told us to meet her at the room and this time the card worked. We had to get up over an hour early in order to reach our destination on time and had to rush because the expressway was starting to get heavily conjested. We stopped by where we origanilly ask for our booking and you could see from the front of the hotel, the building in which the conference was being held. It made us furious!!! [...]